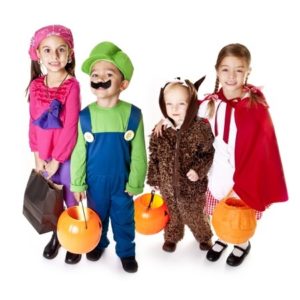 Love it or loathe it, Halloween is just around the corner, which means it's nearly time for the annual mad dash for candy and other seasonal treats, including right there in your neighborhood.
Halloween is also a time to employ extra safety measures for the sake of your children, neighbors, and party-goers alike. Here are just a few ways you can help to make sure it's a happy Halloween for everyone concerned:
Keep the lights shining – Make sure the path to your front door is as well lit as possible. Children wearing masks can't see as well as they usually can, so anything you can do to prevent them from stumbling and falling will just add to the fun.
Clean the yard – Speaking of things (or people) that could go bump in the night, make sure your yard is free of rakes, toys, bikes, and other potential stumbling blocks come Halloween night.
Hold the candles – Once you spend all that time carving and creating a jack-o-lantern, naturally you want to light it. But use LED tea lights instead of real candles, and you'll have one less fire hazard on your hands.
Check the packaging – If you're buying your kids new costumes for Halloween, read the packaging carefully before making your purchase to make sure they're made with non-flammable material.
Nice, doggy – Cats definitely do not hold a patent on the whole curiosity thing, as dogs and cats alike are often as curious as you are to see how little Suzy and Jason from next door are dressed up this year. The problem is that in all the excitement, your pets can bolt, scratch, or even bite those four-foot devils and Sponge Bobs, so it's best to keep them stashed away in locked room until the trick-or-treating is over.
Test your smoke detector and security system – Make sure they work well before the Halloween festivities begin, especially if you're expecting a crowd and have decorative candles burning.
Stick to wrapped treats – Remember the days when your mom or grandma baked cookies to pass out on Halloween, or the pumpkin strudel cake you brought home every year from your neighbor's house? Sad to say, those days are gone, and for a variety of reasons. So play it safe and pass out only commercially wrapped and labeled treats. And, of course, go through your kids' goody bags and weed out anything you aren't 100% sure of before allowing them to dig in.
Happy Halloween from all of us at Optimum Air, your North Richland Hills and Arlington home heating and AC professionals.