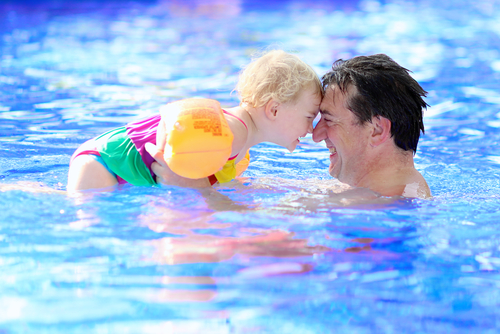 As spring temperatures begin to heat up, we know that those hot, lazy, hazy days of summer can't be far off. For many, that means more time at the lake or pool – you know, the usual.
But do you know what else is usual? That more than 50% of American adults can't swim well enough to save themselves from drowning. And that's according to the Centers for Disease Control.
If you're included in that total, then now is a great time to think about swimming lessons not just for your kids, but the entire family. Here are just a few of the benefits you'll realize as a result:
Safety & Peace of mind!
Swim lessons reduce the risk of drowning for every one at every age. And parents, "fast forward" – because as your child gets older there will be more and more situations when they will be around water without you. Knowing they know how to swim and are confident around water will give you peace of mind.
Swimming is great exercise!
Forget the gym – just hop in the water for a total body workout! Want to increase your core strength at the same time? Just a few laps a week will help make a difference for the better. Plus it's great for clearing the mind. Some even equate the benefits swimming laps to an hour's worth of meditation.
Learning to swim is a gift you'll enjoy forever!
Swimming is an activity that can be enoyed at any age! So think of swimming lessons as a gift you can give yourself and your children that will keep on giving – for a lifetime of fun and shared experiences.
With summer just around the corner, now's also a great time to schedule preventative maintenance service for your home air conditioning system. And nobody does it better than Optimum Air Co. With annual maintenance, we can help keep your system in top working order, and that means fewer repairs, lower utility costs, and a longer system lifespan. What's not to like?!