ways to improve your indoor comfort during the long, cold winter months.
Well, just in case it's not already on your list, let's make it umpteen plus one: using a space heater or two to augment what your central heating system already provides.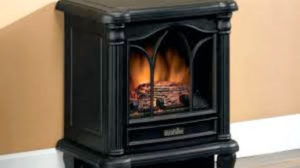 Sounds simple enough, right? You have room that's not quite as warm as the others, or maybe you're just trying to cut down on your monthly heating bill and you're convinced a space heater can help. The good news, it probably can. But they also come with a wealth of safety precautions that any careful home owner would want to observe.  Here's a partial but important list:
Don't buy a space heater unless the packaging carries the UL (Underwriters Laboratory) seal of approval, or one of comparable reliability
Buy one that's the right size where you intend to use it the most
Keep space heaters well away from anything flammable, including bed covers, window treatments, loose clothing, and more
Don't allow children or pets near them
For reasons of fire safety free-standing space heaters belong on the floor only – not chairs, desks, tabletops, or cardboard boxes
Never plug a space heater into an extension cord
If yours is at least a few years old, be sure to check the cord for any signs of wear and tear before plugging it in for the first time
Then again, what if you're using space heaters because your central heating system just isn't getting it done? If that's the case, you have a great reason to contact Optimum Air. With your approval, we'll start by inspecting your current system to determine what kind of shape it's in, and proceed from there. Our only goal is to help keep you and your family as warm, comfortable and safe as possible…something we've perfected over the years. And now we're ready to apply our combined skill and experience to on your behalf. Contact us today for the service you need, when you need it.