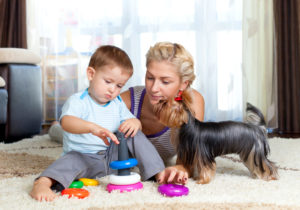 At Optimum Air, we'd like to offer some sound advice on how to turn "Dangnabit!" into "Zowee!", or however you're accustomed to expressing the extreme emotions of frustration and elation.
What we're referring to is the range of emotions people often go through when purchasing a new air conditioning system.  "Dangnabit," or words to that effect, are often expressed at the time the current system simply cannot be repaired again.  As in, done, cooked, null and avoid, and out the door.  And we get it:  very often a new AC system is not a planned purchase but, at the same time, one you can't live without.
And yet, by knowing what to look for, and asking all the right questions, you're bound to end up
With a new system that meets all of your criteria for comfort, reliability, energy savings, and more.
And now, for the "Zowee!" formula for achieving the ultimate in customer satisfaction.
1. Bigger isn't always better.
A system that's too big for your home is going to frequently cycle on and off, which puts added stress on the system and will eventually cause it to fail prematurely.  By contrast, buying a too-small system doesn't do you much good either, as the "little guy" will have to run longer and harder than it should have to reach and maintain the desired temperature.  So ask your contractor to take all the proper cooling load measurements to ensure proper sizing.
2. It's better to replace it all.
There are two main components to your AC system:  the outside condensing unit and the inside heat exchanger.  Since it's highly unlikely both will fail at the same time, it can be tempting to replace only the one that does and save a little money in the process.  But broken or not, the one component still chugging along is still way past its prime and should be replaced so you have one cohesive, well-integrated new system that gives you the best of everything, including greater energy efficiency and lower utility bills.
3. Choose a contractor that offers and annual service agreement.
While these come in many different "shapes and sizes," the basic purpose of each one is the same, and that's to ensure that your system received annual preventative maintenance to help it run better and last longer.
4. SEER:  the key to lower energy costs.
If you have a pretty good idea of how much you'd like to save each month on your electricity bill when upgrading to a new, high efficiency AC system, be sure to share that information with your contractor.  That way, they can properly guide you to a system model a SEER (Season Energy Efficiency Ratio) rating most likely to help you achieve your objective.
5. Hire a reputable HVAC company.
Allow us to throw our hat into the ring:  Optimum Air, serving home owners like you in Euless, Bedford, and through the DFW area.  For starters, we're licensed, insured, and are Accredited by the Better Business Bureau.  We take a "one at a time" approach to designing and installing AC systems, as no two sets of circumstances and home details are ever the same.  Plus, we stand behind our work with our 100% customer satisfaction guarantee.
Ready for a little "Zowie!" action of your own, even if that's a word you would never, ever use?!  It's okay, neither do we.  But we do work hard to not just meet, but exceed your expectations.  So let's get started, shall we, by calling us to schedule a free in-home proposal and new system quote.